Sarah Fay
Managing Director, Glasswing Ventures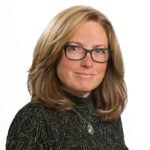 Sarah Fay has more than 20 years of experience in the marketing services industry, with a track record of leveraging technology to deliver groundbreaking new models for advertising and media. In her role as Managing Director at Glasswing Ventures, Sarah leads and evaluates investments in early stage AI-powered companies.
Sarah has served as Independent Director on the Boards of public and private technology and digital media companies such as Ziff Davis (Nasdaq: ZD), The Street (Nasdaq:TST – acquired in 2019 by Euromoney and The Maven), Narrative Inc., LabViva, Celtra, Socialflow, and [X+1] (acquired by Rocket Fuel). She served as CEO of Aegis Media North America, a media and digital marketing communications company, where she was also responsible for launching and growing a significant part of that business during her eleven-year tenure. Sarah also served as President of Carat US, and Isobar US, where she was tasked with the integration of digital and traditional media services.
Sarah's contributions to the broader community include serving on the steering committee of All Raise's Boston Chapter, the Executive Board of the Ad Club of Boston, the Board of Boston's Chamber of Commerce, the Board of The Massachusetts Innovation and Technology Exchange (MITX) and as Board Advisor to Advertiser Perceptions. Sarah earned a BA in English from the University of Vermont and has received numerous accolades and awards for her accomplishments such as "Influential Board Director of 2019" (Women's Inc.) "Media All Star" (AdWeek), "Top 100 Most Influential People in Media (Media Post), Women to Watch (Ad Age), and "Fast 50" (Fast Company).